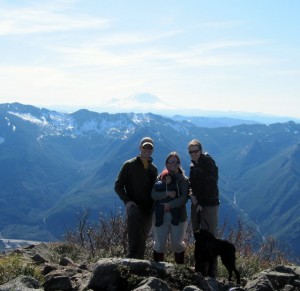 Last weekend Courtney and Arthur were in town for a visit. They've been stuck in flat Michigan for too long (their words, not mine) and so I knew they wanted to go hiking and see some beautiful views. Given their complaints about the flatness of Michigan, I thought taking them to the heights of the Cascades would be a good idea…which lead us to Mailbox Peak. Although I've wanted to do it for awhile, we'd never made it there. I knew it was going to be a butt kicker but since Saturday was a gloriously sunny day, I thought the views would be worth it.
Unfortunately Mark wasn't feeling 100% still, so only Kuja, Sabine, Courtney and Arthur and I went. Butt kicker it was….4,100 vertical feet in 3 miles. Thankfully Mark and I have either snowshoed or hiked almost every weekend since the new year, so amazingly I made it all the way to the top with the Bine on my back. Thankfully Arthur took her on the way back down. At the top we could see Mt. Rainier, Seattle, the Olympic Mountains, Mt. Baker and pretty anything else around since we were above it all.
It was a great day and all worth it despite the fact that we're still having trouble going up and down stairs normally.