Service Announcement:
Now that we aren't volunteering in Kenya anymore, our life may not be so interesting to you, it's ok we're not hurt. For those of you that are on our email list, I thought I would just let you know that you don't have to stay on it, if at any time you want to unsubscribe there's a link at the bottom you can click which will prompt you to send an email to a specific email. OR you can just email us and we can remove you. Now back to our previously scheduled program …….
Last weekend was themed, Aquatic Animal Weekend. Now many of you know that back home I slept, ate, and breathed fly fishing … or at least as much as one could and still pay the bills, do chores around the house, see family, keep a job, not need counseling etc. While in Kenya lack of transportation and equipment kept us from really being able to do any fly fishing, so when we got to Cape Town I started to do some research on fishing. This last weekend I tracked down a dam (The cape is full of man made lakes they call dams) that rented rods and the four of us headed out to do some fly fishing.
This is a picture of Bebeth bringing in one of two fish she caught that day.
The next day we headed out to an area called Hermanus. Currently whales are migrating from somewhere to Hermanus. The weather wasn't very good (aka rain) and the whole town of Hermanus was out of power for some reason.
Here everyone is crowding into one of the few resturants able to cook without electricy.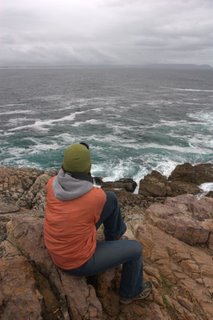 Despite these few setbacks we were determined to see some whales.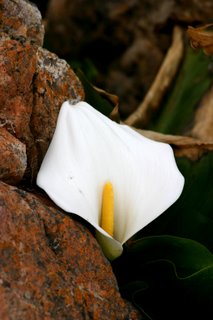 And of course no trip out is possible without witnessing some sort of floral beauty.
MORE PHOTOS:
Last but not least we have posted some more photos from our travels in South Africa you can check them out by visiting this link:
http://www.steudel.org/pictures/index.php?cat=5&page=3
——————————-
http://www.steudel.org/blog
Sign-up for e-mail notifications
Unsubscribe from e-mail notifications