Well this week it's been "Doctor Week". Both of our "children" made a trip to their respective doctors. Kuja went in yesterday to get fixed, spent the night at the vet's office and Bebeth went and picked her up this afternoon, with the instructions "Make sure she stays calm." A puppy calm, are you serious? She now has a cone attached to her head, which seems to get caught on things, especially all the baby gates …
Sabine made her 9 month visit to the Doctor. No she didn't get fixed. Though she did get weighed and now weighs a whopping 16lbs 5oz. and comes to a towering height of 27 inches. Her head is in the 90th percentile and her weight puts her in the 10th percentile. She is now officially a bobble head doll. She also go the ok to eat pretty much anything. Below was our first attempt at feeding her pasta, she didn't really seem to be a fan.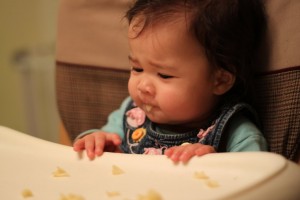 These day's she is crawling around a lot, and even free standing for 3 or 4 seconds on her own. She has also figured out how to climb our stairs … time for more baby gates. Over the last few weeks she's started dancing. It's more like wobbling her head back and forth, but she loves doing it. If I start playing the guitar or we turn some music on the radio she'll often start dancing.