Well as some of you know I recently attended the Mark O'Connor String Camp in New York City. Somewhere around 270 students attended. Many were professional's and music students.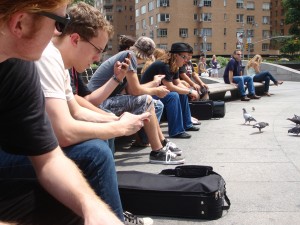 It was quite an amazing time. It's hard to fully explain it, but each day was broken down into classes (two in the morning and 1 after lunch).
There were many different styles: Old Time Fiddling, Jazz, Texas Swing, Klesmer, Indian, Rock, Classical, etc. There were classes for Violins, Violas, Cellos, and stand-up basses. At any given time  slot there was around 12 different classes you could take either intermediate and advanced. After that there was a interview session where Mark O'Connor interviewed various figures in the music industry. After dinner, there was Student and Faculty concerts.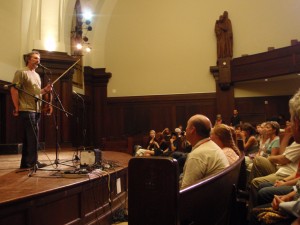 After that it was jamming. The earliest I went to bed was around 2am and several nights it was after 4am. It was an amazing time. I didn't end up taking many pictures, but I borrowed some from friends. Below is me backing up another student who played an fiddle tune.
Below is a tune I wrote for Courtney's wedding, and performed at the Friday Night concert. It's not a great recording so you will probably need to turn up your speakers.
Mark