After Christmas we flew out to Montana to visit my side of the family in Montana. We had a great time hanging out with the family playing in snow.  During one break in the high winds, Dave pulled out a bunch of his guns and we had some fun shooting clay pigeons and tin cans.
Picture of Teddy throwing clay pigeons for us to shoot
Picture of Teddy shooting a .22
Even Mikaela got into shooting the .22. She even thought she might ask for one for her birthday instead of getting her ears pierced.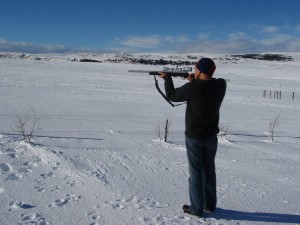 Here I'm shooting some sort of rifle with a scope on it.