Mark and I decided to rent a car for the next week to try and take advantage of all the outdoor opportunities that Cape Town has to offer. Saturday we went fishing again since that's the hardest thing to do without a car. The only fly fishing store in the area operates a couple of dams that you can go fish at. Although we only managed to bring one fish to hand, it still felt a bit like cheating as the "dams" are really just small ponds. The location, however, couldn't be beat as we were nestled in a valley between 2 sets of mountains outside of Stellenbosch.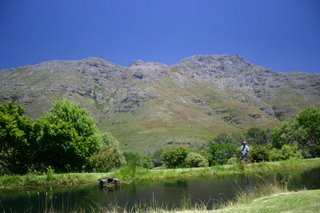 The backdrop while fishing.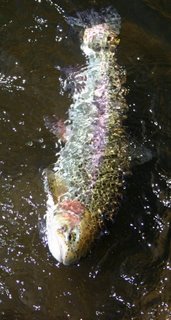 The one fish we almost brought to hand…we really needed a net.
Today we took at drive to Chapman's Peak. Unfortunately the road around the cliffs was closed, but we were able to drive out to the point and see some amazing views. In the first picture you can barely see the road that drives around the bend….its looks tiny, very curvy, and hardly distinguishable from the cliff face!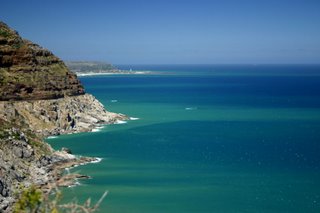 The view from Chapman's Peak drive.
We stopped off at a trailhead and hiked part way up to the top of chapman's peak. The trail was really just one very long staircase. All I could think about was the person/people who had to carry and place each and every rock along the way. We didn't go all the way to the top, but went high enough to see the ocean on both sides of the peninsula. We could have spent all day up there just looking out onto the ocean, but the wind was ferocious…..a number of times on the way down Mark and I had to stop and concentrate on not getting blown over!

On the way up to Chapman's Peak.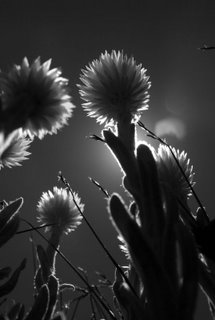 One of many beautiful flowers we saw along the way. The area was recuperating from a recent forest fire and thus all the vegetation was very low to the ground.
——————————-
http://www.steudel.org/blog
Sign-up for e-mail notifications
Unsubscribe from e-mail notifications