Day 3 of our trip took us to Wilderness National Park. Although not quite as "wild" as the name suggests, it was very beautiful. We camped on the bank of the Touw River and woke in the morning to lots of Guineafowl running around chasing each other and generally making a racket! We spent Sunday paddling up the river to the start of a short hike to a waterfall. After lunch Mark and I took off down a tributary to try and find a lake. No lake was found, but we saw a number of beautiful (but sadly unidentifiable) birds. One even had an 8 inch red tail!! Try as we could, we never found it in our bird book. We did find out that our arms were…how shall I say…not as buff as usual. Apparently we thought that our daily reading of Small Adventure and Kaj Bune Photography meant that we were in paddling shape! It was no day out in the Sea Clipper, but it was great none-the-less.
All in all it was a great visit to a majestically beautiful part of South Africa. Below are a few more images from the trip.
A red-knobbed coot getting ready to grab dinner.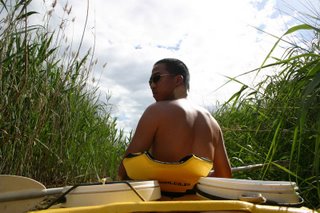 Pushing through the reeds in search of the lake.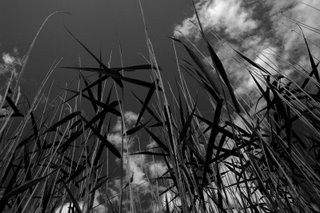 A look up at the sky….
The view from our tent.
——————————-
http://www.steudel.org/blog
Sign-up for e-mail notifications
Unsubscribe from e-mail notifications