Last Sunday we took the day off completely and spent the day in pretty much the same way we would if we were in Seattle on a summer day. I've been itching to go for a hike, so we set out on public transportation to try and get as close to the trailhead as possible. Fortunately we were able to get with 1 km and didn't have to walk too much further. Our destination was Lion's head, a rocky peak ontop of a hill in the middle of the city. Our apartment is located at the base of Signal hill (formerly known as lion's rump) and to the South, along the "lions body" you'll find lion's head. The views from the top were spectacular. We could see all of the neighborhoods around Cape Town, the top of Table Mountain, and we even got to watch a kayak race! After returning to the base we walked into Camps Bay, a sea-side neighborhood. There we had smoothies and sat on the beach for a bit before catching a bus home. We finished out the day by having dinner at local Chinese food restaurant…it was good but it didn't hold a candle to Shanghai Garden!
This week its back to work…I'm in Cape Town but Mark flew out this morning for Nairobi to attend a conference with the NGO we were with in Kenya. Should be interesting…more later!

Looking down onto Seapoint from Lion's head.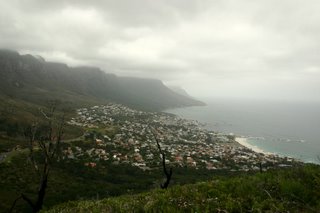 Looking North ..the 12 apostles (an extension of table mountain) can be seen extending into the distance.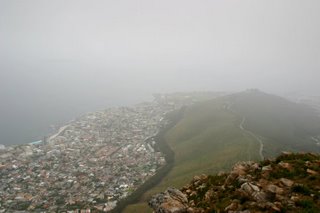 A view of Signal hill from Lion's head.
——————————-
http://www.steudel.org/blog
Sign-up for e-mail notifications
Unsubscribe from e-mail notifications