After spending almost 2 months with us, Courtney left last Tuesday morning to begin the next chapter in her adventure…in Tanzania. We had a great 3 weeks in Cape Town, especially the last week which was filled with lots of great activities.
First we went to Robben Island, home of the political prison where Nelson Mandela was incarcerated. We toured the island which has been used for a variety of things over the years and then were given a tour of the prison by a previous inmate. I only have the most basic knowledge about South African history, but it was very interesting none-the-less. On a non-historical note, we got a spectacular view of the city from the island.
Courtney and Mark thought the view was so amazing they even decided to do a little dance.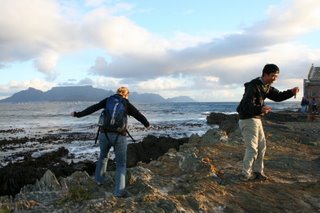 That weekend Courtney found a concert for us to go to in wine country. The flowers were blooming and we were treated to great weather. We left Saturday morning and spent the afternoon sitting next to a lake listening to music. That night we bundled up and danced on hay bales while listening to reggae. Unfortunately the wind was REALLY strong and on our walk back to the campground we saw a number of tents fly away!

On Courtney's last day we went to Stellenbosch to do some wine and olive tasting. We began at a combination winery/yarn shop and had lunch while choosing yarn and tasting wine.
The area is so beautiful…rolling hills, vineyards, flowers and a perfectly sunny day doesn't hurt! I have to admit that the landscape is about as different from the traditional American vision of "Africa", but it couldn't be more gorgeous!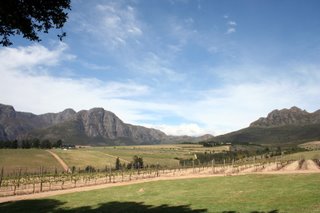 After all that, its been back to work, and we've been swamped…but right now that's a good thing!
——————————-
http://www.steudel.org/blog
Sign-up for e-mail notifications
Unsubscribe from e-mail notifications
Technorati Profile