Well we made it safe and sound. We arrived in Cape Town Saturday night around 10:30 pm. We got two taxis and were whisked away to Green Point. Before we came Sam contacted some apartment places he found online so we had already arranged to have two apartments waiting for us when we got here. The landlord was kind enough to wait up for us so he could give us the keys and let us into our apartments. So now we have two beautiful apartments in the middle of Green Point. We have been aquainting ourselves with the surrounding area, reveling in the grocery stores, restaurants, cars stopping for pedestrians, sidewalks, and gorgeous scenery (we can see the bay from our windows and signal hill right behind us). Here are some pictures from our apartment.
Looking up at Signal hill behind us.
Looking out across the Table Bay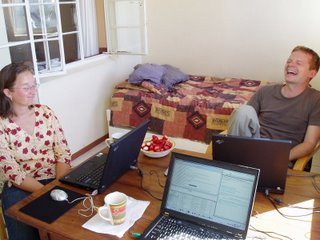 Bebeth and Sam hard at work enjoying a bowl of strawberries
We also have new phone numbers so here they are:
Bebeth: (27)822659277
Mark: (27)822658724
Courtney: (27)790951008
Time Zone: GMT +2 (Or 6 hours ahead east coast, 9 hours west coast)
We seem to have timed coming to Cape Town just right. Next weekend is the Penguin Festival, the whales are supposed to show up any day, and we are heading from Spring into Summer! This week we are working on getting a car, probably a VW Golf, so we can start to explore even more.
Mark
——————————-
http://www.steudel.org/blog
Sign-up for e-mail notifications
Unsubscribe from e-mail notifications