First one sister up and joins Peace Corps and heads to Kenya, then the other sister decides to move to Tanzania and spend 8 months volunteering at a rural community center.
For those that didn't know Courtney (Bebeth's younger sister) and her boyfriend Arthur are moving to Tanzania to volunteer with a NGO called Miracle Corners in southern Tanzania. They are also keeping a blog of their adventures, which you can check out at:
http://courtneyandarthur.blogspot.com
Courtney is spending the next month with us in Cape Town, and will then meet Arthur in Dar es Salaam and then they will subjugate themselves to a 12 hour overland bus trip with all their gear to Songea.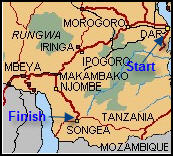 Wish them luck, keep them in your thoughts, and send them yummy care packages

!
——————————-
http://www.steudel.org/blog
Sign-up for e-mail notifications
Unsubscribe from e-mail notifications