After Mom, Dad, and Mark headed back to Nairobi, Courtney and I set off on a 1.5 week adventure along the coast. The first day we headed up to Lamu, an very old Swahili Island at the Northern most tip of the Kenyan Coast. There are no cars on the island, only donkeys which rule the road. Courtney and I spent 3 nights there exploring the town, wandering down the very narrow "streets", admiring the beautifully carved doors, and generally pretending that we were in another century.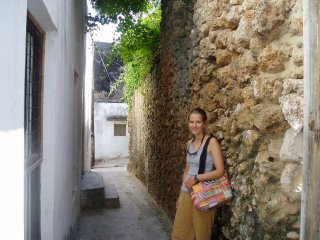 Next we headed to Malindi to visit Grover, his cat Mpo, and Malindi Handicrafts. Our last day there Mark joined us and we headed to Watamu, the next beach town South of Malindi. There we spent 3 nights enjoying the pristine beaches and wonderfully warm water. The land is very flat there and when the tide was out we were able to walk far out into the ocean and explore the coral islands and their tide pools.

By far the coolest thing we saw was this "fish". I really haven't a clue what it was (and if anyone can identify it, please tell me!) but it fascinated us. In the pools there were up to 10 of these fish, only half of them were out of the water "jumping" around on the rocks….no, not flopping, they clearly wanted to be out of the water. The one pictured below is sitting on a rock out of the water.

——————————-
http://www.steudel.org/blog
Sign-up for e-mail notifications
Unsubscribe from e-mail notifications