Saturday my good friend Kevin Rodin and his girlfriend Beth arrived in town. They found themselves with a number of friends on this continent and decided to spend a few weeks traveling through South Africa, Mozambique, and Kenya. After a typically yummy dinner of Indian food, we met up with a friend of Beth's and some of her friends (the connection between these people is beyond confusing, so I'm not even going to try to explain.) Kevin and Beth had wanted to try and climb Mt. Longonot, but our only option of getting there was public transportation which would have meant 2-3 hours each direction. 2 of the people we met after dinner had cars though, and we were able to convince everyone to join us on this adventure. 2-3 hours on public transportation turned into 45 minutes!
Unfortunately Mark was feeling under the weather, so only I went. Kevin, Beth and I met the crowd at the local grocery, stocked up on food and coffee and headed out. The drive was beautiful with amazing views of the Rift Valley.
After quick lunch at the base of the mountain we started up. Mr. Longonot is a dormant volcano that last erupted in the mid 1800's. The hike up is along the tree-covered ripples that was once lava. It was also very, very steep. After 12 months of essentially no hiking, it was a true B-U-T-T kicker. However, it was all worth it as the views from the top were amazing. Due to lack of time we were not a able to hike all the way around the crater, but a small group of us hike a bit around so as to see a bit more of the Rift Valley.
Here are a few pictures from our trip: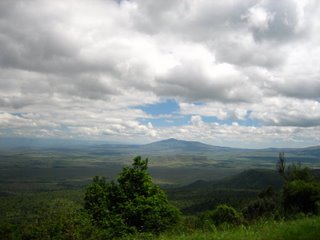 The mountain in the middle is Mt. Longonot.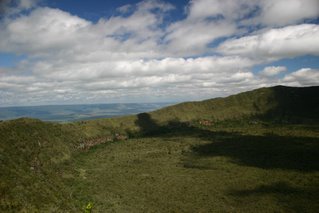 A look down into the crater. It looks just like a lake of trees. Apparently there are bufallo and wildebeast that live down there. I would imagine it is a Darwinian paradise.
Another view from the top: This one looks north and you can see Lake Naivasha in the background.
Bebeth, Beth and Kevin at the top
Everyone at the top:
B: Daniel, Kevin, Megan, Bebeth, Chris
F: Jamie and Beth
A view from the farthest point we got to.
Finally, since you know we can't pass up a good insect photo opportunity, here's the best bug of the day!
——————————-
http://www.steudel.org/blog
username: markandbebeth
password: peacecorps