We finally managed to get a day off yesterday! My friend Charlotte Stanton (who I grew up with in Brooklyn and played squash with in college) works for UNEP and is living in Nairobi, so we went to hang out with her yesterday afternoon. We took a bus to her house in Karen (a very nice suburb of Nairobi named after Karen Blixen) and got a quick tour of her house and got to meet her housemate's dog, petra. Then we hopped in her car and set off for Nairobi National park. Its really an amazing place. As you can see from the picture, it located right in Nairobi (if you look closely you can see big buildings in the background.) The park doesn't have any fences so that the animals can still follow their normal migration activities. This means that what kinds of animals are in the park changes from day to day, or maybe, season to season. Today we saw giraffes, bufallo, many birds, baboons, hardibeasts, impalla, to name a few animals.
One of the things we saw was this secretary bird. We're not exactly sure what he was doing, but he seemed to be playing in the wind, jumping up and down on his nest. Possibly he was trying to push a couch through his front door….we don't know! This bird was pretty far away, so we couldn't see it that well, but if you want to know more about it you can read at http://en.wikipedia.org/wiki/Secretary_bird .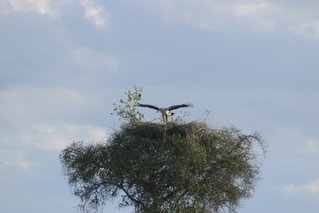 Our drive out of the park gave us this beautiful view.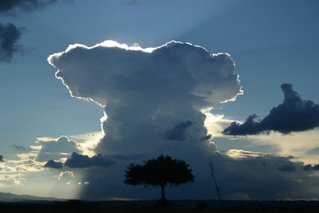 ——————————-
http://www.steudel.org/blog
username: markandbebeth
password: peacecorps