Today we went to the Bungoma FFS network office (we have been working with the Kakamega FFS network with DrumNet). All of the FFS offices have recently received a computer and Joseph (the FFS Peace Corps volunteer) now has the job of training them. He recruited us to help train the Bungoma office.
Unfortunately this morning Joseph realized that his phone had been stolen, so while he went to deal with that, we were on our own. The Bungoma FFS office is on the Farmer Training College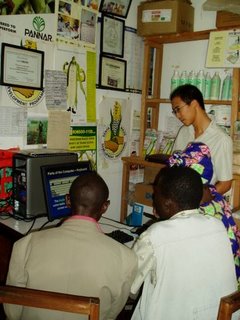 campus and eventually we found the FFS office. We began with the usual Kenyan introductions. Next we had to go to the head of the Farmer Training College to be introduced to him….back through the same introductions…and of course then we had to sign the guest book (have we told you how many times we've signed guest books…sometimes the same one over and over every time we visit!) Finally we headed back to the FFS office to begin. Where did we begin? Yes…at the very, very beginning….the power button. Mark walked them through all the parts of the computer, or at least the ones they needed to know about. He talked about CD's and how to take care of them, different keys on the keyboard, and what a USB port was. All 3 "students" (the network officials) practiced plugging in and unplugging the mouse from the USB port. A the end of the "hardware" section Mark gave them a quick oral quiz and they passed with flying colors!!
Next we taught them a little about Microsoft Word. This began with how to open the program. Next we did a little
typing, how to highlight, make bold, make bullets, and the ever-important "undo". Finally we covered save and open. The group was very quick to pick up all the skills we taught them.
Eventually lunchtime came just as power started flickering so we decided it was a good time to break for lunch. We headed off to the sister of the chairman's house to eat. We were the first Wazungu she had ever had in her house, so you can imagine the stir it caused. We had a very yummy lunch of ugali, sukumawiki (kale) and meat. We met EVERYONE on the compound and Mark caused a stir every time by greeting each one in the local language (Kibokusu) instead of Swahili. Seriously, you can't imagine how this affects them. Its almost like if you walked in the house one night and the dog greeted you in English!




The rest of the afternoon was spent teaching them how to organize files in different folders, delete files, open files, etc. At the right are 2 pictures of your fearless leaders at work!