I did my recaps on facebook, so I'm just scraping them from there and leaving them here for posterity…
The first 3 days were my hardest of the trip. In some ways physical, but more emotional and mental. It was really hot in the midday, way more cars than we expected, hello gravel (maybe I should have trained a little in gravel?) and on our first day we came close to our highest elevation of the trip. Day 1 out of Coyhaique was still pavement so I was lulled into thinking we could cover a lot of miles! Day 2 we hit the gravel…deep, large rock gravel. And if that wasn't enough….we had a serious headwind. It was so strong that I had trouble keeping any real forward momentum…which in the deep gravel meant I was having trouble staying upright. Every few minutes I'd just fall off my bike! Thank goodness for Alissa who assured me that it couldn't remain this hard the entire time. I didn't believe her for a second, but I think it helped stop my despondent tears. Thankfully the scenery was already beautiful and each night we "wild camped" at beautiful spots next to the river along the road. I've never slept so soundly!!
Day 4 we got a ride from the owner of a farm we were staying at to the next town (Puerto Rio Tranquillo) and caught a bus from there to get another town (Cochrane). We always knew that we'd likely be unable to complete the full 600 km in the time I had….and then with the snowstorm delaying me by a day, the mileage became even harder. So we cut out 150km this way which allowed us to still have long days of cycling, but with much less stress. As a road cyclist I'm used to being able to cover a lot more miles. But with the massive hills and the road conditions, we had to adjust our expectations and generally did around 50km a day…and it still took all day! When we got off the bus, we grocery shopped as this was the last town we'd see for 5 days. After a day of "rest" (if that's what you call sitting in a bus bumping along a terrible road)…I was ready to get back on the bike. The road conditions got marginally better and I also got better at riding in the gravel. We started seeing glaciers regularly and the traffic slowed a bit. As we crossed over passes the terrain would change rapidly! Thankfully, day 5 was our last really hot day. Day 6 was a gloriously moderate temperature…it threatened to rain all day (but never did) and was relatively flat which meant we were able to cover a lot of miles along beautiful rivers, stopping just past a huge confluence of rivers, right at the base of a long climb.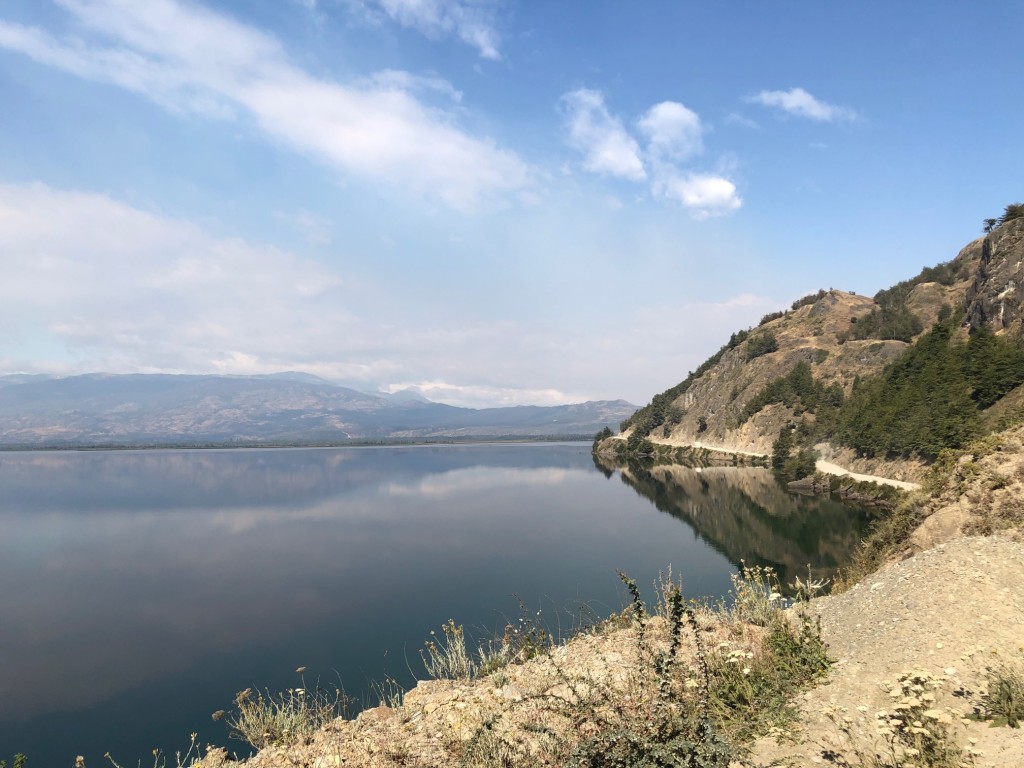 Day 7 began with a long 10km climb that started out so steep I had to walk…and I was sure I was going to have to walk the whole time…cue desperation. Whomever graded the road clearly just wanted to torture the cyclists, as after the 2nd switchback the grade went back to something bikeable and we passed through amazing canyons and ended up on a beautiful pass with sun and lakes! This was the one day where lunch time coincided with a beautiful spot so we made the most of it. Then we rode back down the other side to wait for a 6pm ferry. As we waited cyclists started showing up and by the time it left, there were 7 of us on the ferry. Two of them were a Canadian couple (Amanda and Andrew) we'd met at our second campsite who we'd really enjoyed getting to know. There's lots of leapfrogging that happens on a trip like this and we were happy to sync back up with them and after exiting the ferry, we utilized the long hours of daylight to knock out another 20 km before finding a campsite with them. Right on a raging river and under a huge glacier with no houses for miles…it really felt like we were in wild Patagonia now!!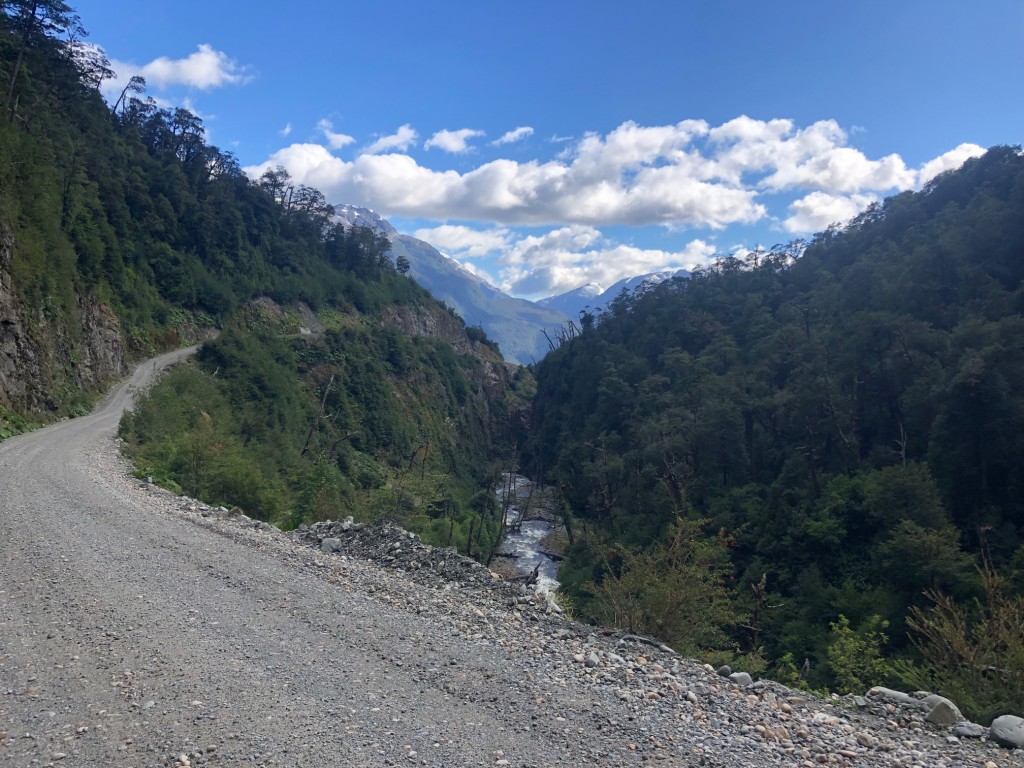 Day 8 we got a taste of what the weather could be like and I'm grateful to say we only had one crappy rain day. Thankfully we were able to pack up before it started pouring. For the next 3 hours we were just warm enough as we climbed long hills in the rain and then froze as we rode down the other side of the hills. We got lucky that eventually the rain stopped and the sun even came out for a bit. But all around us we could see storms raging and we knew that at any moment it could start pouring (or worse) again. We knew there was a cyclist refugio (aka a shack) with a fireplace and protection from the wind and rain that we could get to, so we set our sights on that for the night. Although it would mean stopping early in the day, it seemed like the prudent thing to do. The four of us arrived around 4pm and quickly one more joined. There was no wood, so we all set out to find any sort of dry wood around. Although there were "windows" there was no glass, so we had to keep the slats closed to keep the howling wind and rain out. Then from the south 2 more cyclists arrived. At 7 people we thought we could still fit all of us in if we slept like sardines. But by 8pm we'd grown to 12 cyclists. It's quite an experience spending so many hours in a tiny, dark space…with wet clothes hanging from the ceiling, listening to the wind and rain rage outside. Eventually the last 5 to arrive agreed to pitch tents outside and the original 7 fell asleep on every available surface. I wish I'd had a way to take a picture of all of us! Day 9 we rode an easy 30km into Villa O'Higgens..stocked up on food, checked to see whether the ferry we'd made a reservation for would run the next day (sometimes it doesn't run for days because of weather!), ate a hot meal and found WiFi and a hot fire in the local library. Then we biked to the ferry "terminal" and the official end of the Carretera Austral to camp for the night before a big day 10. We were treated to a beautiful rainbow for our last few km of the Carretera!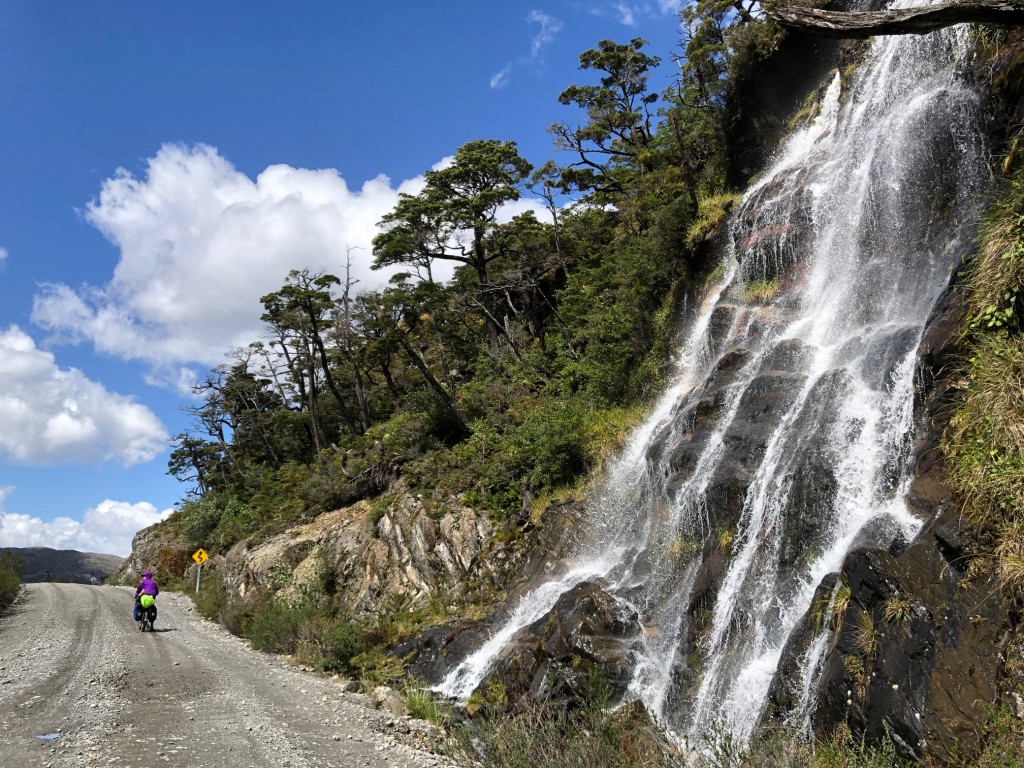 Day 10 was always going to be one of the craziest ones of the trip. It started with a 3 hour ferry ride across Lago O'Higgens. Most people stay on the boat to go see a glacier and then return to Villa O'Higgens. Since we didn't have enough time to do the glacier part, we got off at the only stop after 3 hours. It was a lovely ride across a beautiful lake, and despite not getting to see a glacier, we did get to see an iceberg! After you get off you are on a 21 km stretch that crosses the Chile-Argentina border that's only accessible by foot or bike. First we checked in at Chilean customs where you have to get a very important stamp (if you don't get it, they'll reject you in Argentina!) The next 6 km were stunningly hard…climbing up out of the lake on steep, deep gravel. We had to walk much of this part which was definitely discouraging. The next 8km were relatively flat and stunning. Peaks and glaciers everywhere, no cars, no people…just the occasional hiker, biker, or cow passing in the other direction. Finally, you reach the actual border of the countries and the "road" we'd been on disappeared and the last 5-6km was essentially a really bad hiking trail, complete with huge roots, rocks, stumps, swamps and streams. Though a mountain biker might have been able to bike some of it, a loaded touring bike wasn't up to the task. After about 1 km I figured out I needed to get rid of a pedal if I hoped to have any right calf left. It was one of the crazier, but also more fun things I've done. Not necessarily in a "I want to do that again" sort of way…but definitely in a "that was pretty cool" way

As Alissa would say…it was definitely type 2 fun. It ended right at the Argentinian customs building which has a huge beautiful field that everyone camps in for the night with a spectacular view Fitz Roy. That 21 km took us over 6 hours to complete!!
Day 11, my final day of biking!! It began with a ferry across Lago Desierto and a final 35 km bike into El Chalten. The road was pretty bad, but thankfully we had a tail wind and it was relatively flat. We were essentially circling Mt. Fitz Roy so we had amazing views the whole time. We could see a storm chasing us which added a little drama, but it never caught us thankfully. At the end of the 35 km, right as you arrive at El Chalten….the gravel ends, and you hit pavement. I've never been so happy to see (and feel) pavement in my life! At this point we were back with Andrew and Amanda and we biked around looking for a cheap place to stay (not an easy feat in a tourist town on a Friday night in high season) but eventually found a dorm room for 4 people in a bed and breakfast…so we all bunked together! I was finally getting a hot shower and a good meal!! Day 12 was spent relaxing, finding a box for my bike, and doing some laundry. It's never felt so good to do nothing for a day. With the bike box sorted out on day 12, it meant that day 13 was free for anything I wanted (otherwise I would have had to bus to a bigger town to find a box). Alissa, Amanda and I decided to hike to Laguna de Los Tres….a spectacular hike that drops you seemingly at the foot of Mt. Fitz Roy. It had always felt strange to be going all the way to Patagonia and not hike, so I felt pretty grateful that we ended up with a day to do just that. We lucked out on the weather (lots of days you can't see any of the peaks) and the views were amazing. We were able to hike all the way back to town, get a celebratory beer as we walked through and arrive "home" to a yummy homemade meal by Andrew! And with that amazing final day, I was ready to start the 48 hour journey home to see my family!!
One final post with a few thoughts on my trip, and then I'm done, I promise! Did I miss out on stuff doing this trip in such a short amount of time? Yes, definitely!! There were so many things we could have seen along the way, if we'd had more time. I was definitely envious of the riders we met who had no schedule. Was it worth it with so little time? Yes definitely!! I feel super lucky to have snuck away from my life and family for over two weeks, to have gotten to see such amazing scenery, and to have had the adventure of a lifetime! I'm grateful that Alissa and I both wanted to do this, and despite not having done more than a 1 day adventure together before, she didn't run screaming when I was a miserable puddle on the second day after having fallen off my bike too many times to count! It takes a special kind of person to think this sort of adventure is "fun"…so glad Alissa felt that way! I'm grateful that the trip went from bad to good (and not the other way around) as all I'm left feeling are warm and fuzzies. And I'm thankful that fate put us on the same stretch of road as some really interesting people. Although we got to know Andrew and Amanda the best, we also met quite a few other fascinating people, from tons of different countries, including a family of 4 (kids 5 & 9) who rode everything we did and more (we met them after the crazy day on the trail…and that made me go from feeling like superwoman to just normal really fast! ????) It's always fun to learn about other ways of life, cultures, and experiences…especially when at the end, you're pretty sure you like your own the best! I don't think I'll be doing any extreme trips like that again anytime soon…but I've already got my bike back together, tuned up (unexpected highlight of this trip is now knowing how to take care of my own bike!) and am headed out for a ride tonight!